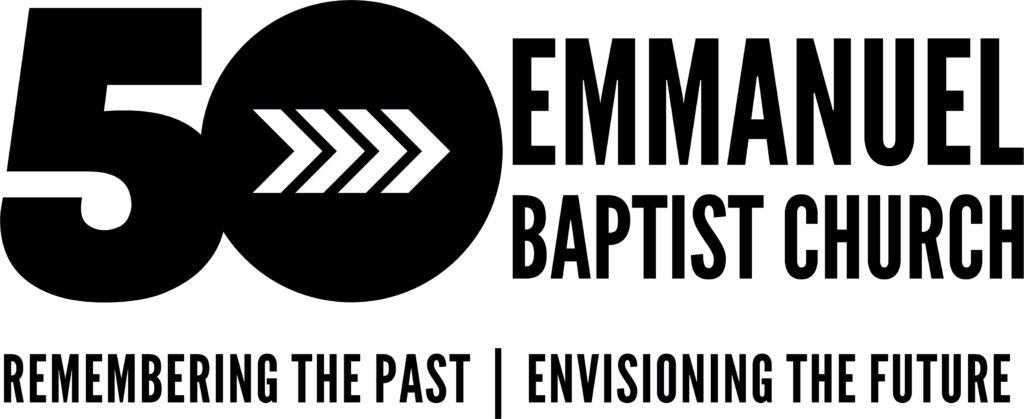 During the Weekend of April 26-28th, EBC will be celebrating 50 years as a church! Over the last several months, current and past members and attendees of EBC have given financial gifts that will go directly back into the community in celebration of our 50th Anniversary. After lots of prayer and consideration, we have identified groups to be recipients of a portion of the money raised during this time.
If you would like to know more information about what community groups will be impacted, or you would like to help us reach our goal of raising $50,000, please contact the office or Give Here (make sure you scroll down in the "Destination" drop down menu and select "EBC 50th Community Outreach"). There are several ways to volunteer before or during the event weekend. If you would like to help in any way, please email Bonny Boyan.

---
Below is a list of the weekend events. Some of these events require pre-registration, so please Register Here for one or all of the events!
Generation Celebration – Remembering the Past | Sat, April 27; 5-8pm; EBC Worship Center

Celebrating 50 years of God's faithfulness!
Hell's Canyon Smokehouse catered dinner
Special guests: former pastors Clint Ashley and Mark Bradley
Musical guests: former Worship Leaders Ted & Judy Oman and Andy & Michelle Mielke
Come dressed in outfits from your favorite era from the past
Prizes for best costumes from each decade
Everyone is welcome – space is limited and registration is required by no later than April 17th. Please include names of all attendees in your party and what years they attended Emmanuel. Also provide # and ages of children for childcare during the program. Register Here!
---
Meet and Greet Welcome for Out of Town Guests | Fri, April 26: 5-7pm; EBC Fellowship Hall
Opportunity for out of town guests to gather as they arrive, to check in and get information about the weekend events. Open house style with light hors d'oeuvres and on-site tours of Emmanuel. Please register in advance. Register Here!
---
Pullman Tours | Sat, April 27; 2-4pm; Meet in EBC Parking Lot
Guided bus/van tours of Pullman highlighting recent updates to the downtown & WSU campus. Please register in advance.
Register Here!
---
Worship Service – Envisioning the Future | Sun, April 28; 10am; EBC Worship Center
Special worship service looking forward to the future of EBC! Everyone is welcome!
---
Potluck Lunch | Sun, April 28; Following the Service; EBC Fellowship Hall
Potluck lunch following the Sunday morning service. Everyone is welcome!

---
Remembering the Past | Envisioning the Future